This May, let's celebrate Mother's Day with a special event at Crescent Mall. On May 14th, Crescent Mall will have themed decorations and many exciting activities and events. The theme is "Mother is the Best" and the space will be filled with flowers as a wish from Crescent Mall to all mothers. Come and capture happy moments with your mother and show her your love.
Spend some quality time with your mom and make lasting memories by taking part in the fun activities at Hall B, Ground Floor of Crescent Mall. The event runs from May 8th to May 14th, 2023.
1. "WonderMOMs" Playlist: Enjoy songs about mothers on Spotify #HEARCrescentMall from May 08 – 28, 2023
Link: https://open.spotify.com/playlist/3JXHsfyhd1Rskcu5lfSQJE?si=eb13a421f8e04d5f
2. Craft activities to make medals for mothers on May 13th and 14th, 2023 from 6:00 PM to 9:00 PM
3. Music show to celebrate Mother's Day on May 14th, 2023 from 7:30 PM to 8:30 PM
4. Card decorating activity to make greeting cards for mothers on May 20th and 21st, 2023 from 4:00 PM to 8:00 PM
5. Handmade wool workshop with TIMEO to make keychains or wool magnets for mothers on May 27th and 28th, 2023 from 6:00 PM to 9:00 PM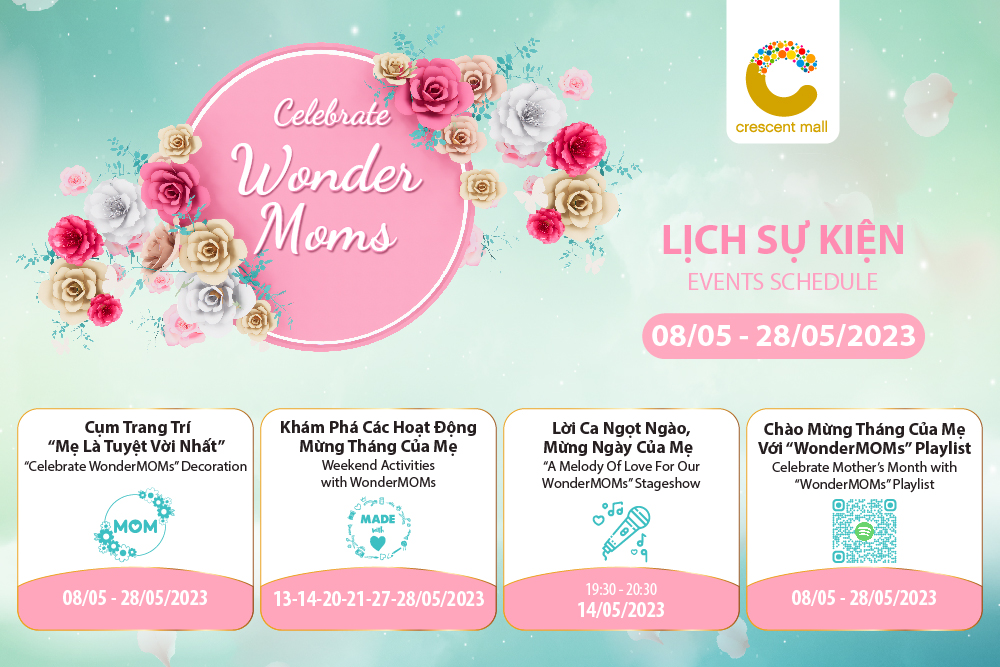 Don't forget to shop for Mother's Day gifts at Crescent Mall and take advantage of our special membership programs this May:
1. Flowers of May: from May 12 to 31, 2023
Customers can scan the Crescent Mall app code to collect vouchers for four different types of flowers (gerberas, peonies, carnations, and roses) to earn a gift, four of the same type to earn a special gift.
2. Dinner with Mom: May 13 & 14, 2023
+ New C Rewards members will receive a food and beverage voucher worth VND 100,000 upon signing up.
+ C Rewards members with a valid shopping bill of VND 2,000,000 or more will receive a food and beverage voucher worth VND 200,000.
3. Shop and receive Mother's Day gifts: from May 14 to May 31, 2023
Thành viên C Rewards đã có ứng dụng Crescent Mall có hóa đơn mua sắm hợp lệ từ 5.000.000 đồng sẽ được đổi 1 Hộp đựng thực phẩm Tefal Master Seal.
C Rewards members who have the Crescent Mall app and a valid shopping bill of VND 5,000,000 or more can exchange it for a Tefal Master Seal Food Container.
Crescent Mall
Ad: 101 Ton Dat Tien, Tan Phu Ward, Dist.7, HCMC
Website: https://www.crescentmall.com.vn/
Source: Crecsent Mall